Adventures
China
Travel
Scroll down for Complete Guide to Hiking the Tiger Leaping Gorge
Complete Guide to Hiking the Tiger Leaping Gorge
With watery eyes and a long yawn, I dutifully loaded my backpack into a van that would be transferring hikers' luggage to the end point of the trail I was embarking on. Along with the lightest knapsack I could assemble, I boarded a separate shuttle to get to a mountain located two hours away from town. I flashed a faint smile as my eyes met those of the strangers onboard – about 20 of them – who were my destined fellow hikers that very day.
The journey begun as I gradually fell into a partial sleep. My head bobbed with every bump of the rugged road, but it did not take long before I was resurrected by the sight of majestic pinnacles atop an unbroken stretch of forest. It felt just like a movie, except it was happening right before my eyes.
The van stopped at the foot of the mountain as several uniformed officers entered for passport checks. Hikers were then required to pay ¥65 for an open-ended ticket to the trail (¥32.50 for hikers below the age of 25 with a student card).
Then on, it is an adventure waiting to be unfold.
Solo Hiking: Tiger Leaping Gorge
Hiking: Tiger Leaping Gorge
Located in the
Yunnan province
in southwest China, the trail to the Tiger Leaping Gorge starts at Qiaotou, a town at the foot of the Haba Snow Mountain. The trail takes a shortest time of 7 hours to complete. Otherwise, there are several inns along the way for those preferring to hike at a slower pace. Although considered one of the most popular hiking destination in China, the trail remains uncrowded and deserted on most days.
History
Legend has it that a tiger once leaped from Yulong Snow Mountain to Haba Snow Mountain by jumping on the huge rock in the centre of the river, among the rough rapids.
Tiger Leaping Gorge Features:
Trail distance:
30km (high path)
Duration
: 7 hours to 3 days
Gorge depth:
3,790 meters (12,434 feet) from river to peak
Gorge length
: 15 kilometres (9.3 mi)
Entrance fee:
¥65 (¥32.50 for students with valid IDs)
Accommodation
: Halfway Guesthouse, Tea & Horse Guesthouse, Naxi Family Guesthouse, Come Inn, Five Fingers Mountain Guest House, Chateau de Woody, Tibet Guest House, Tina's Guesthouse
Hiking the Tiger Leaping Gorge
Getting In
Bus from Lijiang (¥40, 2 hours), drop off at Qiaotou (entrance to the high path).
Every 30 minutes from 7am to 12pm.
Getting Out
Bus to Shangri-la (¥55) from Tina's Guesthouse at 3.30pm.
Bus to Lijiang and Daju available.
Warnings
Do not attempt to hike the trail during winter/rainy season as rockslide is common. The best time is said to be in May, October and November.
If you are hiking solo, note that the trail is usually empty and that the next town is located very far away so it will be challenging to find help should anything unfortunate happens.
You will constantly be harassed by locals for fees, especially at areas closest to the gorge. If the amount is small, look at it as a donation to give back to the community.
The most difficult part of the trail is located close to the starting point, known as the 28 Bends. It isn't really that difficult if you take it slow, but it is here that local men will pester you to take a ride on their donkeys or horses for a fee should you show the slightest sign of fatigue.
What to Bring
There are guesthouses along the way, so water and light snacks should suffice.
Sunscreen is always a good idea during summer.
Skid-resistant shoes is a must.
Cameras, with plenty of memory space.
Washroom at Halfway Guesthouse - voted the washroom with the best view in the world.
The river flowing through Tiger Leaping Gorge is between Yulong Snow Mountain and Haba Snow Mountain
A woman selling marijuana and other essentials along the trail
Animals grazing freely along the trail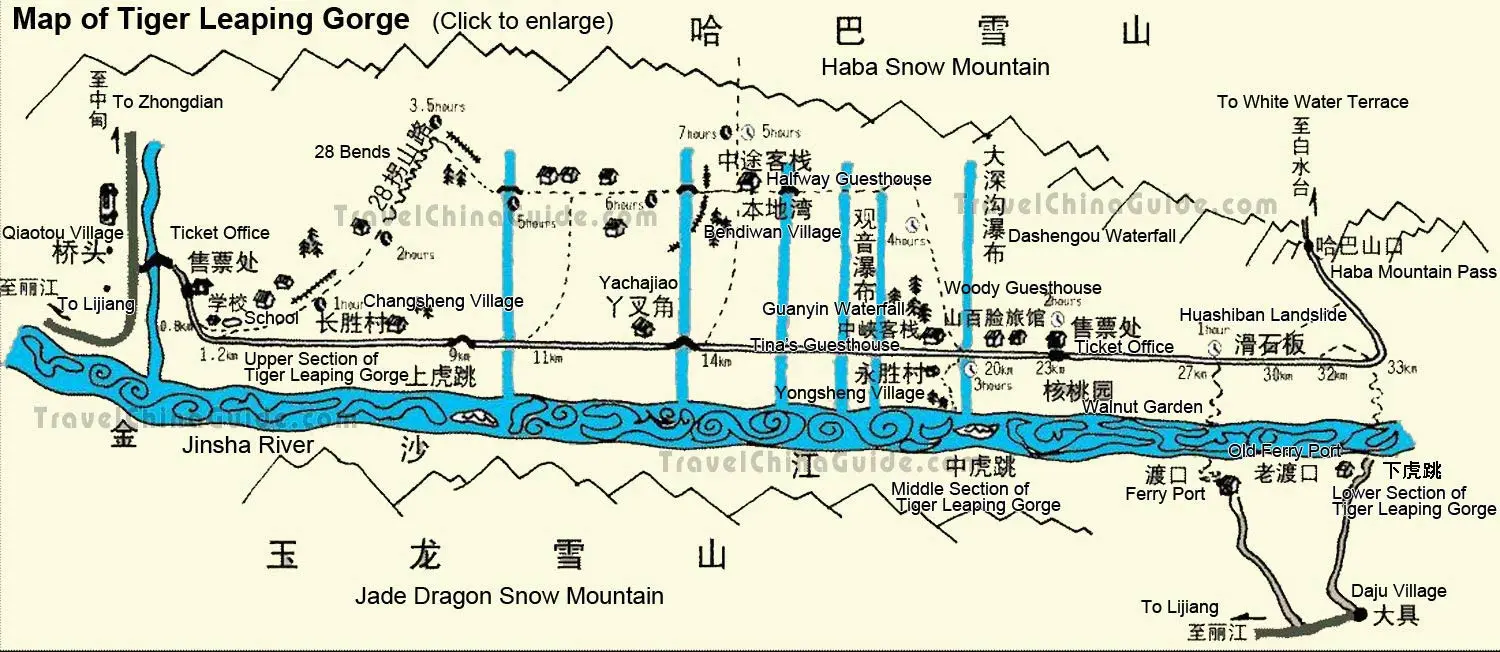 Map of Tiger Leaping Gorge (Click to enlarge)
Source: travelchinaguide
For related travel stories, click
here
.
Trending Posts