Adventures
How-to
Travel
Female Solo Hiking Tips
Photo taken at Haba Snow Mountain, Yunnan
Growing up in Asia, being in a constant state of cautiousness is almost inevitable.
Family members have always cast a protective shell over me, isolating me from activities they deemed risky. Note: For Asians parents, anything could be dangerous - even if it is just crossing that damn road across the house.
Frankly, it really wasn't all that shocking that when I told my parents I'd be traveling to Indonesia for my first solo hiking adventure, it was acknowledged with two pairs of widened eyes and dropped jaws. My mother has always been overly concerned about my safety and well-being (which I appreciate wholeheartedly), and it took much persuasion to finally make it happen.
Personally, I prefer doing things on my own, and this includes hiking. There is something about being able to make the journey based entirely on my own efforts, and that when the hustle is over, I get to look back on every step I've taken from the very peak. While hiking solo is immensely rewarding, risks and dangers are at times unavoidable:
Dangers of Solo Hiking (Female or Otherwise)
Emergency - Having no one to help you when you're injured
Getting lost - Going onto the wrong trail
Lack of supplies - Water, food, maps etc
Mental state - Lack of moral support to go on/having someone to talk to
Female Solo Hiking Tips
Cast Away Negative Thoughts
Yes, you may have read countless horror stories about those who have met a tragic end while hiking. Keep in mind that unfortunate events take place around the world day-to-day - at the mountain, on a road, or even at someone's own house, and soaking yourself in such negative thoughts will not get you any further. Instead, pay attention to the beauty that surrounds you, such as immersing yourself in the blueness of the sky or by dipping your feet in the cold rattling stream at any given chance.
Prepare a First Aid Kit
If you are hiking alone, chances are that you will have to nurse yourself in the event of unforeseen injuries. Understanding how to use the items in a first-aid kit is as important as having them, so a thorough research is crucial. A few important items include bandages, tweezers (to remove splinters or debris), oral dehydration salt, hydrocortisone cream, pain relievers, etc.
Get Into Shape
It is wise to make sure that you are physically well prepared, especially if you are taking on longer trails. Dragging out your time due to exhaustion might leave you out on the trail alone when the sky gets dark.
Don't Outdo Yourself
Feeling tired? Take a break. Sprained an ankle? Get help and put your journey on hold until you fully recover. No good comes from pushing yourself too hard.
Gather Enough Experience First
Hike in a group and familiarize yourself with hiking do's and don'ts before attempting it solo will greatly reduce the risks involved.
Elevate Your Experience
If you enjoy painting, bring along a sketchbook and spend some time by the waterfall to let your creativity flow. If you have a knack for photography, bring along a camera with as much memory it could hold. It is a breeze to make your hiking experience a more memorable one!
Hiking solo is the most rewarding thing a female can do. It teaches us to have unstinting courage, independence, wisdom, unreserved perseverance and unconditional commitment. Happy hiking!
For related travel stories, click
here
.
A special shout-out to Mantas, who have taught me to be a little crazier and to do everything my mother has warned me against. More importantly, thanks for teaching me to never stop exploring. Be safe wherever you are!
Adventures
China
Travel
Scroll down for Complete Guide to Hiking the Tiger Leaping Gorge
Complete Guide to Hiking the Tiger Leaping Gorge
With watery eyes and a long yawn, I dutifully loaded my backpack into a van that would be transferring hikers' luggage to the end point of the trail I was embarking on. Along with the lightest knapsack I could assemble, I boarded a separate shuttle to get to a mountain located two hours away from town. I flashed a faint smile as my eyes met those of the strangers onboard – about 20 of them – who were my destined fellow hikers that very day.
The journey begun as I gradually fell into a partial sleep. My head bobbed with every bump of the rugged road, but it did not take long before I was resurrected by the sight of majestic pinnacles atop an unbroken stretch of forest. It felt just like a movie, except it was happening right before my eyes.
The van stopped at the foot of the mountain as several uniformed officers entered for passport checks. Hikers were then required to pay ¥65 for an open-ended ticket to the trail (¥32.50 for hikers below the age of 25 with a student card).
Then on, it is an adventure waiting to be unfold.
Solo Hiking: Tiger Leaping Gorge
Hiking: Tiger Leaping Gorge
Located in the
Yunnan province
in southwest China, the trail to the Tiger Leaping Gorge starts at Qiaotou, a town at the foot of the Haba Snow Mountain. The trail takes a shortest time of 7 hours to complete. Otherwise, there are several inns along the way for those preferring to hike at a slower pace. Although considered one of the most popular hiking destination in China, the trail remains uncrowded and deserted on most days.
History
Legend has it that a tiger once leaped from Yulong Snow Mountain to Haba Snow Mountain by jumping on the huge rock in the centre of the river, among the rough rapids.
Tiger Leaping Gorge Features:
Trail distance:
30km (high path)
Duration
: 7 hours to 3 days
Gorge depth:
3,790 meters (12,434 feet) from river to peak
Gorge length
: 15 kilometres (9.3 mi)
Entrance fee:
¥65 (¥32.50 for students with valid IDs)
Accommodation
: Halfway Guesthouse, Tea & Horse Guesthouse, Naxi Family Guesthouse, Come Inn, Five Fingers Mountain Guest House, Chateau de Woody, Tibet Guest House, Tina's Guesthouse
Hiking the Tiger Leaping Gorge
Getting In
Bus from Lijiang (¥40, 2 hours), drop off at Qiaotou (entrance to the high path).
Every 30 minutes from 7am to 12pm.
Getting Out
Bus to Shangri-la (¥55) from Tina's Guesthouse at 3.30pm.
Bus to Lijiang and Daju available.
Warnings
Do not attempt to hike the trail during winter/rainy season as rockslide is common. The best time is said to be in May, October and November.
If you are hiking solo, note that the trail is usually empty and that the next town is located very far away so it will be challenging to find help should anything unfortunate happens.
You will constantly be harassed by locals for fees, especially at areas closest to the gorge. If the amount is small, look at it as a donation to give back to the community.
The most difficult part of the trail is located close to the starting point, known as the 28 Bends. It isn't really that difficult if you take it slow, but it is here that local men will pester you to take a ride on their donkeys or horses for a fee should you show the slightest sign of fatigue.
What to Bring
There are guesthouses along the way, so water and light snacks should suffice.
Sunscreen is always a good idea during summer.
Skid-resistant shoes is a must.
Cameras, with plenty of memory space.
Washroom at Halfway Guesthouse - voted the washroom with the best view in the world.
The river flowing through Tiger Leaping Gorge is between Yulong Snow Mountain and Haba Snow Mountain
A woman selling marijuana and other essentials along the trail
Animals grazing freely along the trail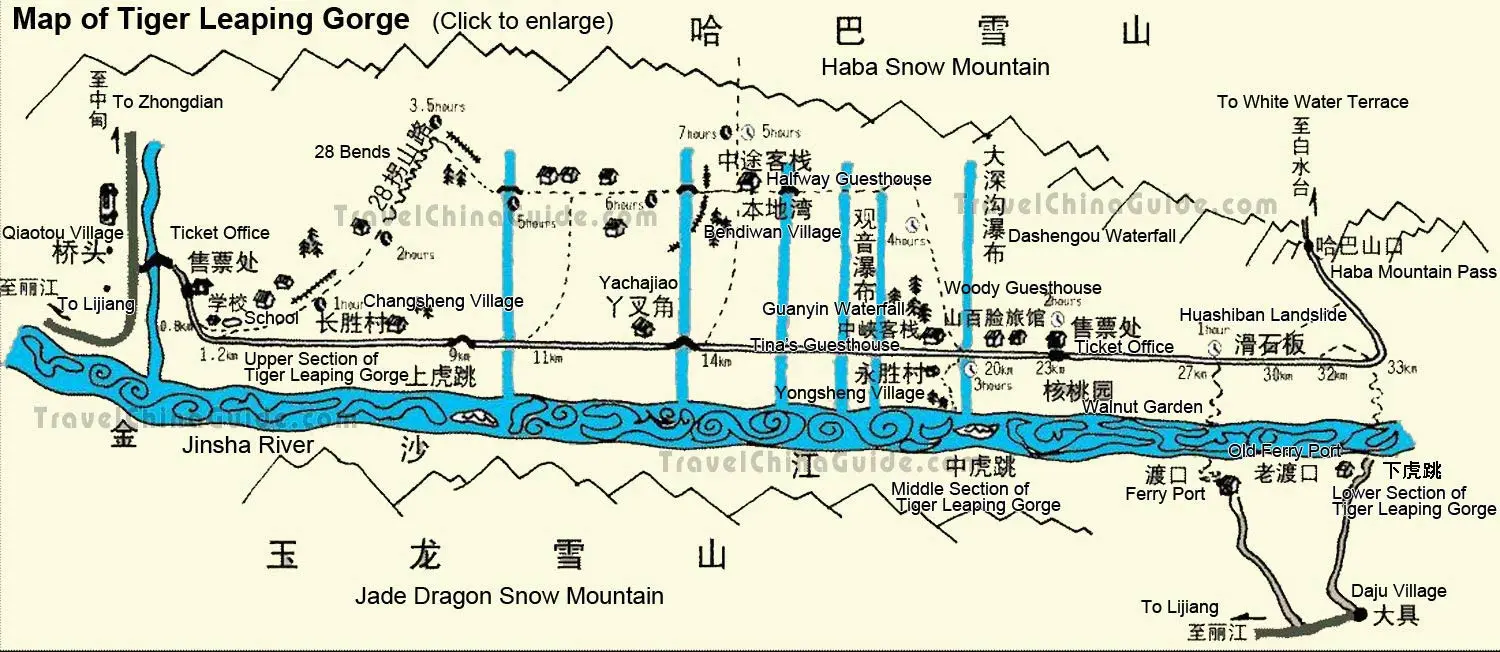 Map of Tiger Leaping Gorge (Click to enlarge)
Source: travelchinaguide
For related travel stories, click
here
.
Trending Posts