Food
Indonesia
Although Indonesia has the largest Muslim population in the world, Bali is (surprisingly) a Hindu majority island. Expect to find mostly fish and pork dishes over other types of meat here. Keep in mind that Hindus revere and have a high level of respect for cows, hence they avoid consuming beef and other products sourced from them.
You can find many restaurants outside of tourist hot spots that do not serve pork in order to cater to the Indonesian Muslim majority. Listed below are 10 must-try dishes in Bali to make your island vacay extra memorable!
12 Must-Try Dishes in Bali
12 Must-Try Dishes in Bali, Indonesia
Mini Rijsttafel
A mini rijsttafel is a dish made for sharing. Rijsttafel literally means "rice table" in Dutch that has been made popular during the colonial times. It is a platter of mixed selection of popular Balinese delicacies consisting of meat (typically Bebek Betutu/smoked duck or other types of grilled meat), sambal, sate, tempe, tofu, Nasi Tumpang (rice cones) and Sayur Urap (a local savoury salad).
Mini Rijsttafel in Bali
In Bali, a Rijsttafel set comes with up to 40 side dishes cooked in a variety of ways and served with rice!
Sate Lilit
Sate Lilit is just one of the many variants for the celebrated Indonesian satays. The Balinese version is typically prepared using minced pork, fish and chicken (...you might also find turtle meat) combined generously with coconut milk, lemon juice, shallots, grated coconut and heaps of seasonings. The mixture is wrapped thickly around lemon grass, bamboo or sugarcane skewers before being grilled over charcoal. Lilit literally means "to wrap around".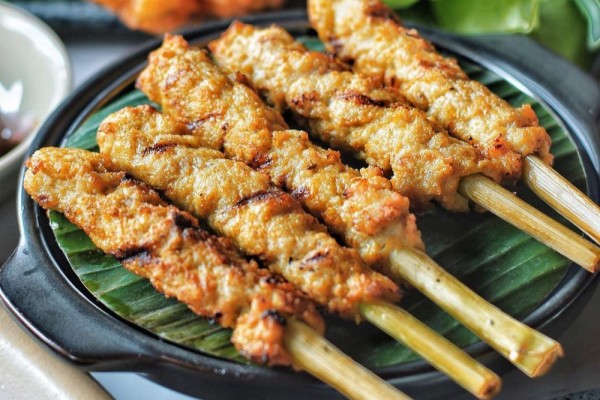 Sate Lilit in Bali
Photo credit: idntimes
Sate in Bali
Similar to Sate Lilit, sate is a type of grilled seasoned and skewered meat dish but this version is thinner and is served alongside an appetising sweet peanut sauce.
Delicious sate in Bali

Street vendors grilling freshly skewered sate

Sate found on the Balinese streets
Balinese Coffee
Coffee lovers will instantly fall in love with this island for the abundant variants it offers. However, you should definitely stop by a cafe just for the local Kintamani Balinese coffee which is loved for its fresh, fruity note. The distinct taste can be attributed to the way they are grown - almost always in a plantation alongside citrus fruits that gives the coffee beans a sweet, memorable aftertaste.
If you are feeling adventurous, remember to give coffee Luwak a try. It consists of partially digested coffee cherries which are eaten and defecated by the Asian palm civets. FYI, Kopi Luwak is also the world's most exclusive and expensive coffee due to the rather unsual method of production.
Local Balinese Coffee is a must-try when in Bali!
The Kintamani Balinese coffee is a famous selection in here
Klepon
These beautiful sticky glutinous rice balls are loaded with sweet caramelised coconut in the centre. It is just one Indonesia's many Jajanan Pasar (market snacks) and can be consumed anytime of the day. The filling is made using coconut and sugary palm sugar, while the skin is perfected using glutinous rice flour with essence from the aromatic pandan (screwpine) leaves. Each bite is a delightful explosion of sweetness!
Extra sweet Klepon with paln sugar filling in Bali
Klepon is just one of Bali's many jajanan pasar or market/street snacks
There are plenty of choices available when it comes to street snacks in Bali

Betutu
This signature Balinese dish features steamed or roasted poultry that has been smothered, rubbed and stuffed in the unbelievably rich Bumbu Betutu spices - a traditional, fragrant concoction of ginger, pepper, turmeric, shrimp paste and chili. It can be found on the streets or even in luxury hotels - making it a must-try when visiting the beautiful island of Bali.
Ayam Betutu Bali is a well seasoned and delicious dish in Bali
Nasi Campur
This "mixed" rice dish comes with a serving of white rice accompanied with small portions of other dishes such as meat, vegetables, eggs, and the mandatory tempe-tofu-keropok toppings. There is no fixed rule when it comes to preparing a plate of Nasi Campur, so feel free to get creative!
Nasi Campur makes a cheap and quick meal in Bali
Gado Gado
This traditional dish is the Indonesian take on salad. It can be enjoyed cold or warm, on its own or accompanied with rice. The dressing is made using aromatic sweet peanut sauce while the vegetables are prepared two ways: steamed (carrot, potato, beans) and raw (lettuce, tomatoes, cucumber).
Gado Gado is an uniquely Indonesian salad made using blanched vegetables, eggs, rice cakes, tempeh and toufu - served drenched in sweet peanut sauce.
Ayam Penyet
This dish consists of a star component: smashed fried chicken. The meat is seasoned and first cooked in Bumbu Kuning (yellow spices) before being deep fried in hot palm oil. It is then smashed on a mortar with a stone pestle which makes the meat extra tender and moist before being coated with more spices made using tamarind, lime juice, shrimp paste, tomatoes, anchovies, chili, shallots and garlic.
Ayam Penyet served with hot white rice and a variety of side dishes in Bali
Sambal Matah
There are more than 300 types of sambal in Indonesia, and sambal matah is the favorite in Bali. This extra spicy assemblage is the perfect companion for any Balinese dish and it is made using chili, lime, garlic, lemongrass and shallows pounded coarsely in a traditional stone pestle and mortar. It is further seasoned with salt, sugar, shrimp paste and oil to achieve that distinct hot and aromatic flavors.
The ever popular, spicy and delicious sambal matah from Bali.
Photo credit: Indonesian Original Recipes
Grilled BBQ Meat
Tired after spending the entire day at the beach? Cool down with an ice-cold drink and a plate of the finest Balinese BBQ meat. Bali has its own unique way of cooking up the perfect steak, with noticeable Korean and Brazilian influences. As different BBQ joints have their own approach of grilling, get ready to have your taste buds surprised!
Grilled BBQ Meat is the perfect wind-down meal in Bali
Balinese-style grilled fish or ikan panggang smothered with spices is one of my favorite dishes there!
Instant Noodles
Indonesia is famous for its instant noodles - so why not try some while you are there? The local instant noodles offer a huge variety of flavors of unique seasonings, and they have long been considered as comfort food rather than a quick meal. When served in restaurants, they are usually completed with vegetables, meat and eggs. Plus point: many of them are available in convenient packaging that comes with a handy plastic fork - removing the need for bowls and cutlery!
Try the local instant noodles not because it's quick and cheap, but because it's an iconic "meal" in Indonesia!
Bali is more than just a beautiful island destination - it also wows visitors with its amazing gastronomy offerings. Have fun exploring!
For related articles, click
here
.
Malaysia
Travel
Gua Kelam of Perlis, Malaysia: Everything You Need to Know
Gua Kelam is one of the most underrated caves in Malaysia. Also known as the Cave of Darkness, this interesting Perlis attraction is made up of two smaller connected caves known as Gua Kelam 1 and Gua Kelam 2. The journey into the cave begins at Kaki Bukit and ends unexpectedly at a beautifully landscaped open park. The gangway that runs through the cave keeps curious visitors on track while safety gears such as helmets must be put on at all times as there are several narrow areas with low ceilings and long stalactites.
Note: This article talks about one of the best kept secret of Gua Kelam. Continue reading to learn about this hidden location.
Gua Kelam of Perlis, Malaysia: Everything You Need to Know
The walk through Gua Kelam is a breeze, and it is unlike many of the caving experiences I've had. It is absolutely suitable for those who are looking to learn more about the country's mining history, but adventure seekers can choose a different option - which brings you through the same route but ends with an one-hour river wading experience.
For the usual route: You will not get wet and you will not require a head lamp. There is very minimal climbing involved, other than a few flights of stairs.
Upon reaching the site, you will see the Perlis State Forestry Department office
Gua Kelam is located within the Banjaran Nakawan range of Thailand-Malaysia

There is more honestly more climbing involved outside of the cave than inside (heh)

The History of Gua Kelam, Perlis
Located 33 kilometres north of Kangar, this 370-metre long cavern was formed during the country's olden tin-mining days. In 1935, the English used the water pathways as a channel to transport tin ores from the mine which they discovered within Kaki Bukit's underground cavern. According to history, the name Gua Kelam is given by the miners due to the darkness within the cave. The miners had to use carbide lamps to light up the cave in order to carry out their activities.
Today, there is a wooden walkway that has been built inside the cave for visitors to walk on. Almost everything inside the cave are left the way they were - including remnants from the tin mining activities.
The out-of-service trolley train rails that were used in the past to get into the the cave

A wooden walkway is built for visitors to walk on throughout the cave

Helmets are a must as the roofs are lower in certain parts of the cave
The guide stops to point out interesting features in the cave

Explanation by the guide is very detailed, making the tour an interesting one

Formations in the Gua Kelam

We were so lucky to come across a cave-dwelling frog!

More interesting formations (which names I unfortunately do not recall)

Another group of visitors ahead of us.
If you look close enough, you can see writings in the cave that were left behind by the former cave dwellers - miners that were brought here to work from China by the British

Inside Gua Kelam, you will find writings on the walls with a similar theme: the miners' professing their love for women and their longing to return home.
Unique inscriptions found in Gua Kelam
'Graffiti' on the walls of Gua Kelam
Writings on the walls left behind by the miners in Gua Kelam, believed to be written using charcoal.

A hoe left behind from the mining era

You will find "doors" within the caves marked with initials at the borders that separate different territories belonging to different leaders

The mesmerising interior of Gua Kelam

Interesting formations within Gua Kelam
Remnants from the tin mining operations can still be found intact in Gua Kelam

Beautiful interiors of Gua Kelam

The guide stops to show us the formations in Gua Kelam

One of the many interesting formations in the Kelam Cave
Interiors of Gua Kelam

Beautiful natural formations within the Gua Kelam cave

天 means sky. The Chinese offer their prayers to Tian (天) which is one of the oldest Chinese term for heaven. This small area is found within Gua Kelam that shows the miners' praying rituals.
The Secret of Gua Kelam: The Highlight of Our Experience
Almost halfway into the eye-opening caving experience, the guide stopped and told us that he has a surprise in store for us.
In front of us was a steep pile of rubble and crushed rocks. He told us that if we make the climb, we will discover Gua Kelam's most precious secret.
I thought to myself, "Finally, some real action!" I was so excited. I cannot possibly be anymore ready.
The climb is steep but very short. To our surprise, on top of the rubble is another sizable cave - but this one is different: it holds a few shocking remnants from the past.
The steep climb to a secret location within Gua Kelam

We were stunned to find what is in this cave.
There isn't any information about these findings online. This is a secret treasure that you will only discover during your visit to Gua Kelam.
Within this mini cave are several cairns - or man-made piles of stones that according to history, are typically erected as burial monuments, for defense or for ceremonial purposes. The local authorities are against the idea of knocking down these historical structures, so no one is able to tell what is hidden beneath these cairns with certainty.
These hidden cairns within Gua Kelam is the cave's best kept secrets.

I only took archaeology for one semester in university, but I am convinced that these cairns are burial sites for the miners who died during their time in Gua Kelam. In Chinese customs, alcohol (typically rice wine) is placed on the altar before being offered in libation by pouring it in front of the tombstone horizontally from right to left with both hands in honor of the deceased.
I am still in awe with what I saw.
Think you have the answers for Gua Kelam's greatest mystery? Go on a guided tour into this hidden part of the cave and make your own observations.
Gua Kelam Map & Trail
Although there is a map and wooden path to guide you through the cave, hiring a tour guide is a must as the cave is huge.
The map of Gua Kelam

Information on Gua Kelam

Upon exiting Gua Kelam, you will be greeted by this beautiful lake and a manicured park.

Gua Kelam Rock Climbing, Hiking & Flying Fox
There are many activities available at Gua Kelam, such as flying fox and rock-climbing.
Craving for some actions? Gua Kelam has a series of activities lined up for visitors, such as flying fox.
Gua Kelam 3D Gallery
The Gua Kelam 3D Gallery opened in December 2019, and it is the first of its kind gallery in Perlis. It showcases five different concepts, which are flora and fauna, tropical rainforest, mining, cave and the Malaysian jungle. Many of its walls are painted by local artists which make great backgrounds for photographs.
Preserved snakes found in Gua Kelam

Remnants left behind by the Chinese miners in Gua Kelam

Display of preserved butterflies that can be found in the Perlis State Park
Gua Kelam Camping
There is an allocated camping ground at Gua Kelam, called the Hujan-Hujan Camp Site. Gazebos, an activity hall and other facilities are available. Campsite rental charges are priced at RM2 per adult and RM1 for students.
Please inquire before your visit if you are planning to camp here.
Gua Kelam Nature Run
The Gua Kelam Nature Run or #GEKRUN is an annual marathon that brings participants through narrow town trails along former mining sites, state parks, rubber farms, limestone caves and oil palm plantation. The event starts and ends at the entrance to Gua Kelam located at Kaki Bukit, Perlis.
Be a Responsible Visitor at Gua Kelam
There are certain parts in the tunnels which are narrow with low ceilings. Although you will be given a protective helmet, always be aware of your surroundings and try to avoid grazing the roofs as you could be breaking the calcite crystal straws which take decades to form!
Most importantly, do not vandalise! Walking through the last part of the cave was a heart-breaking experience
Vandalism found near the exit of the cave by irresponsible visitors when the cave was open to public a few years ago.

How to Get to Gua Kelam, Perlis
You can reach Gua Kelam either by car or public transport.
If you are going by bus, hop onto a bus that heads to Kaki Bukit from the Kangar's main bus station, and walk for 10 minutes to get to the ticket office.
If you are going by car, exit from the North-South Highway (PLUS) via Changlun and take the Changlun-Kuala Perlis highway to Kangar and drive toward Padang Besar. Look out for signboards with Kaki Bukit.
Gua Kelam Guest House & Hotels
There are several guest houses and budget hotels located close to Gua Kelam available for less than RM100 per night. For a more comfortable stay, you can opt for hotels in the city that are located approximately 20 kilometres away.
Gua Kelam Ticket Price & Entrance Fee
Here is the list of ticket prices for the activities and services in Gua Kelam:
(Mykad / Non-Mykad)
Gua Kelam 1 Entrance Fees
Adult RM3 / RM5
Child RM1 / RM3
Gua Kelam 3D Gallery
Adult RM3 / RM5
Child RM2 / RM3
Gua Kelam 2 Guided Tour
RM80 per group (max 10 pax)
Gua Kelam Perlis, Malaysia
Address: KM 2, Jalan Kaki Bukit, 01000 Kangar, Perlis
Phone Number: +604-938 4466 (Perlis Forestry Office), +6012-455 2121
Email: forestry@perlisforestry.gov.my
Opening hours: 9.00am-6.00pm

For related articles, click
here
.