12 Must-Try Dishes in Bali, Indonesia
Although Indonesia has the largest Muslim population in the world, Bali is (surprisingly) a Hindu majority island. Expect to find mostly fish and pork dishes over other types of meat here. Keep in mind that Hindus revere and have a high level of respect for cows, hence they avoid consuming beef and other products sourced from them.
You can find many restaurants outside of tourist hot spots that do not serve pork in order to cater to the Indonesian Muslim majority. Listed below are 10 must-try dishes in Bali to make your island vacay extra memorable!
12 Must-Try Dishes in Bali, Indonesia
Mini Rijsttafel
A mini rijsttafel is a dish made for sharing. Rijsttafel literally means "rice table" in Dutch that has been made popular during the colonial times. It is a platter of mixed selection of popular Balinese delicacies consisting of meat (typically Bebek Betutu/smoked duck or other types of grilled meat), sambal, sate, tempe, tofu, Nasi Tumpang (rice cones) and Sayur Urap (a local savoury salad).
Mini Rijsttafel in Bali
In Bali, a Rijsttafel set comes with up to 40 side dishes cooked in a variety of ways and served with rice!
Sate Lilit
Sate Lilit is just one of the many variants for the celebrated Indonesian satays. The Balinese version is typically prepared using minced pork, fish and chicken (you might also find turtle meat) combined generously with coconut milk, lemon juice, shallots, grated coconut and heaps of seasonings. The mixture is wrapped thickly around lemon grass, bamboo or sugarcane skewers before being grilled over charcoal. Lilit literally means "to wrap around".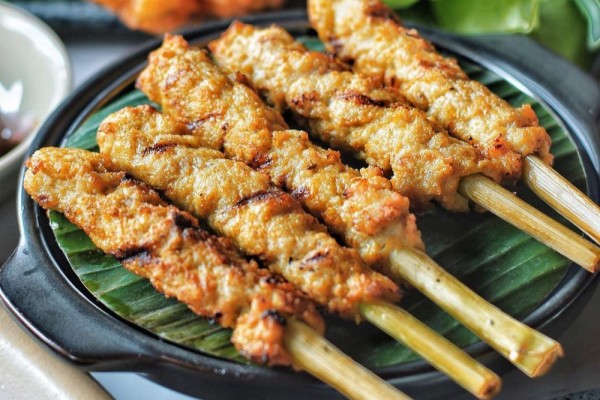 Sate Lilit in Bali
Photo credit: idntimes
Sate in Bali
Similar to Sate Lilit, sate is a type of grilled seasoned and skewered meat dish but this version is thinner and is served alongside an appetising sweet peanut sauce.
Delicious sate in Bali

Street vendors grilling freshly skewered sate

Sate found on the Balinese streets
Balinese Coffee
Coffee lovers will instantly fall in love with this island for the abundant variants it offers. However, you should definitely stop by a cafe just for the local Kintamani Balinese coffee which is loved for its fresh, fruity note. The distinct taste can be attributed to the way they are grown - almost always in a plantation alongside citrus fruits that gives the coffee beans a sweet, memorable aftertaste.
If you are feeling adventurous, remember to give coffee Luwak a try. It consists of partially digested coffee cherries which are eaten and defecated by the Asian palm civets. FYI, Kopi Luwak is also the world's most exclusive and expensive coffee due to the rather unsual method of production.
Local Balinese Coffee is a must-try when in Bali!
The Kintamani Balinese coffee is a famous selection in here
Klepon
These beautiful sticky glutinous rice balls are loaded with sweet caramelised coconut in the centre. It is just one Indonesia's many Jajanan Pasar (market snacks) and can be consumed anytime of the day. The filling is made using coconut and sugary palm sugar, while the skin is perfected using glutinous rice flour with essence from the aromatic pandan (screwpine) leaves. Each bite is a delightful explosion of sweetness!
Extra sweet Klepon with paln sugar filling in Bali
Klepon is just one of Bali's many jajanan pasar or market/street snacks
There are plenty of choices available when it comes to street snacks in Bali

Betutu
This signature Balinese dish features steamed or roasted poultry that has been smothered, rubbed and stuffed in the unbelievably rich Bumbu Betutu spices - a traditional, fragrant concoction of ginger, pepper, turmeric, shrimp paste and chili. It can be found on the streets or even in luxury hotels - making it a must-try when visiting the beautiful island of Bali.
Ayam Betutu Bali is a well seasoned and delicious dish in Bali
Nasi Campur
This "mixed" rice dish comes with a serving of white rice accompanied with small portions of other dishes such as meat, vegetables, eggs, and the mandatory tempe-tofu-keropok toppings. There is no fixed rule when it comes to preparing a plate of Nasi Campur, so feel free to get creative!
Nasi Campur makes a cheap and quick meal in Bali
Gado Gado
This traditional dish is the Indonesian take on salad. It can be enjoyed cold or warm, on its own or accompanied with rice. The dressing is made using aromatic sweet peanut sauce while the vegetables are prepared two ways: steamed (carrot, potato, beans) and raw (lettuce, tomatoes, cucumber).
Gado Gado is an uniquely Indonesian salad made using blanched vegetables, eggs, rice cakes, tempeh and toufu - served drenched in sweet peanut sauce.
Ayam Penyet
This dish consists of a star component: smashed fried chicken. The meat is seasoned and first cooked in Bumbu Kuning (yellow spices) before being deep fried in hot palm oil. It is then smashed on a mortar with a stone pestle which makes the meat extra tender and moist before being coated with more spices made using tamarind, lime juice, shrimp paste, tomatoes, anchovies, chili, shallots and garlic.
Ayam Penyet served with hot white rice and a variety of side dishes in Bali
Sambal Matah
There are more than 300 types of sambal in Indonesia, and sambal matah is the favorite in Bali. This extra spicy assemblage is the perfect companion for any Balinese dish and it is made using chili, lime, garlic, lemongrass and shallows pounded coarsely in a traditional stone pestle and mortar. It is further seasoned with salt, sugar, shrimp paste and oil to achieve that distinct hot and aromatic flavors.
The ever popular, spicy and delicious sambal matah from Bali.
Photo credit: Indonesian Original Recipes
Grilled BBQ Meat
Tired after spending the entire day at the beach? Cool down with an ice-cold drink and a plate of the finest Balinese BBQ meat. Bali has its own unique way of cooking up the perfect steak, with noticeable Korean and Brazilian influences. As different BBQ joints have their own approach of grilling, get ready to have your taste buds surprised!
Grilled BBQ Meat is the perfect wind-down meal in Bali
Balinese-style grilled fish or ikan panggang smothered with spices is one of my favorite dishes there!
Instant Noodles
Indonesia is famous for its instant noodles - so why not try some while you are there? The local instant noodles offer a huge variety of flavors of unique seasonings, and they have long been considered as comfort food rather than a quick meal. When served in restaurants, they are usually completed with vegetables, meat and eggs. Plus point: many of them are available in convenient packaging that comes with a handy plastic fork - removing the need for bowls and cutlery!
Try the local instant noodles not because it's quick and cheap, but because it's an iconic "meal" in Indonesia!
Bali is more than just a beautiful island destination - it also wows visitors with its amazing gastronomy offerings. Have fun exploring!
Don't forget to share your travel & dining moments with us on Instagram by tagging @rollinggrace or #RollingGrace. Happy travelling!